ISLE OF SKYE
BIKING COUNTRY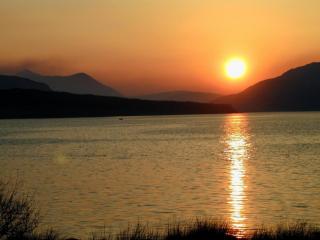 Skye Biker B & B @ Route U55
Beware of Imitations!!!!
Touring accommodation by bikers for bikers on the picturesque Isle of Skye
The house is located on Broadford Bay, on a no-through road, route U55. There are plenty hotels and restaurants within a 15 to 30 min walk. Sheep, Barn Owl, Herons, Buzzard and Otters were all seen at breakfast time last year, and basking seals are a two minute walk away. The B + B is an ideal base for an exploration of the surrounding area, both the island and the mainland, e.g.:
Skye is a large island 50 miles long; fast two way roads and slow single-tracks all with fantastic scenery. A day is not enough!
A good day's ride to Applecross and back is no problem.
There's a bridge at Kyle on the A87.....NOW FREE!!!!!!, also two ferries from Glenelg and Mallaig.
3 Waterloo, Breakish, Isle of Skye, IV42 8QE.
Telephone: 01471 822869.
e-mail: rrob@route-u55.co.uk