The address is 3 Waterloo, Breakish, Isle of Skye, IV42 8QE.
Phone: 01471 822869. e-mail rrob@route-u55.co.uk.
The Waterloo turn-off is about 7 miles from the bridge and 1/2 mile after the Armadale crossroads. The speed limit is 40mph, as you enter Broadford; turn right just before the limit changes to 30mph and continue on down to the end of the road. Watch for the yellow sign on the right.
The B & B is for Bikers ONLY*
* BUT if you have visited before by bike and are travelling by car with your family then that's OK. Because we know how difficult it is to put your partner, two kids and kit on to even the fattest GoldWing :-)
The North West of Scotland is very popular with continental bikers; looking back at my visitor books I've found that while 40% are British, 30% are German, 10% each for Belgian and Dutch and the rest from all over Europe and beyond.
The house is on the coast, Broadford bay, at the end of a no-through road so there is secure parking. There are plenty hotels and restaurants within a 15 to 30 min walk.
The B & B is an ideal base for a 2 to 3 day exploration of the surrounding area, both the island and the mainland. Skye is an island 50 miles long and has many roads; fast two way roads and slow single tracks all with fantastic scenery. I've had folk put 200 to 300 miles on their clocks on a 3 day tour. Now that we have the bridge between Kyle and Kyleakin, a good day's ride to Ullapool and back via Applecross is no problem, 200 miles approx .
FREE.....FREE.....THERE ARE NOW NO TOLLS ON THE BRIDGE....FREE...FREE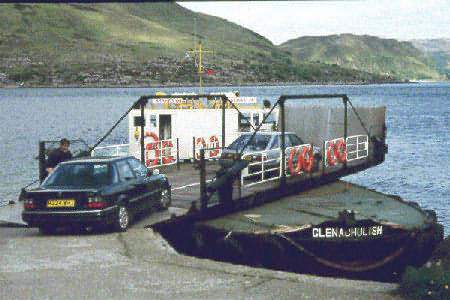 There are also two ferries to the island; Glenelg to Kylerhea, and Mallaig to Armadale. The Kylerhea ferry runs summer sailings only, from the end of March to October, but its best to check when it starts for the season. Calmac run the Mallaig-Armadale service, check out their website for further details. Give us a phone +44 (international) 1471 822869 a few days before you leave and I should have more info. The approach to both can be pretty impressive. Don't miss Glencoe on the A82 either.
If you need to know any more give me a phone, the evening is best or e-mail me rrob@route-u55.co.uk. Also, check out the local weather forecast before you get here on www.onlineweather.com/BritishIsles/Forecast/Kyle_of_Lochalsh.html
Cheers, Richard